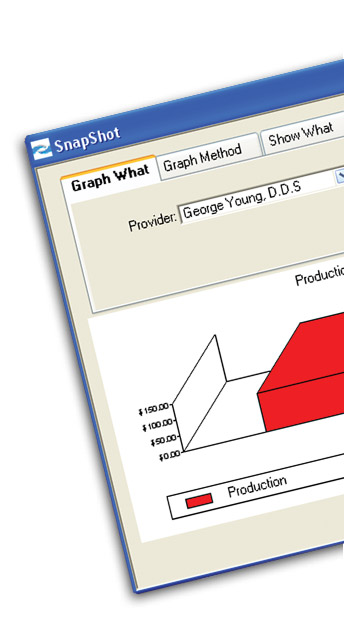 With Eaglesoft, everything you need is right at your fingertips. A full range of tools helps you track your practice's success.
Find the hidden money in your practice with intuitive Eaglesoft features like The Money Finder. You specify the criteria and The Money Finder will access areas within your system to provide a concise list of patients who fit your practice's needs at any given moment. With this information at your fingertips, the revenue opportunities are endless!
Track the performance of your practice with Trends. View office totals according to specified criteria; import and enter data according to month or year.
With one click of the mouse, SnapShot provides an overview of the entire practice in an easy-to-read graphical display. Educate your staff at morning huddles with essential information like production versus collection totals, accounts receivable totals, adjustments and patient production.
Simplify the tracking of your patient base with InContact, an interactive contact manager that enables you to store different types of patient groups based on Recalls, Post-Op Calls and different types of reports. Whether you need help calling patients with recalls or generating mailings, InContact's integration with key data areas in Eaglesoft means you'll have more control over your practice.
Easily access Reports with an intuitive interface that searches by category and allows you to create a customized Favorites list.