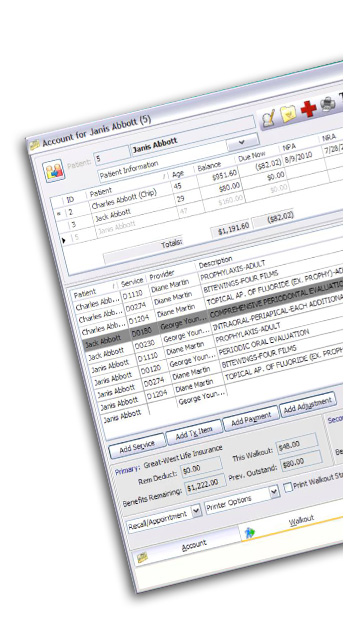 Eaglesoft offers one window to do it all! Walkout, Adjustment and Payment tabs are right there, and other frequently referred-to information can be opened and "docked" on the screen so the information is accessible as you move between accounts.
Eaglesoft's enhanced accounting features enable you to quickly track services, charges and payments.
Check out the features:
Line Item Accounting
Track what was charged and how each service is paid for. Easy to communicate with patients about outstanding balances.
Family Walkout
Quickly enter charges for multiple family members with one walkout process. Handle part-cash and part-credit-card payments – for single or multiple family members – with ease.
Smart Claims/Smart Invoices
Create an insurance claim or invoice for any service or group of services whenever you want. Just highlight one or more transactions in the account ledger, click Smart Claim or Smart Invoice, and the desired claim or invoice pops up. You can even click the Smart Invoice button by itself and get a summary of the transactions for the day. Insurance claims and patient walkout statements are easier than ever!
Date-Based Reporting
Eaglesoft makes it easy to isolate data and run reports by specific dates. The "by other range of dates" option allows you to select the desired dates and run the report.
Automatic Account Aging
Save time on End-of-Day Processing and Statement Processing as account balances are automatically aged for you.
Bulk Payments
More information is available and more tasks can be performed from a single screen with bulk payment in Eaglesoft. Without leaving the bulk payment window, you can:
See a complete list of open claims for insurance companies or payment groups
Process payments and insurance adjustments
Update coverage books for employers
Enter account notes regarding insurance payments
Leave and return to this process later without losing your work