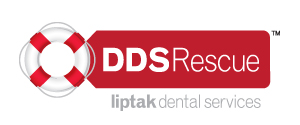 Your data is the most valuable asset in your office. While you know how important it is to back up your computers, the real issue is the time it could take to get your practice back up and running if you have a server crash, power outage or natural disaster. DDS Rescue™ is the most reliable emergency restore solution available.
Check out the features of DDS Rescue:
Onsite System
A Redundant Server at Your Office
DDS Rescue includes an onsite unit – a redundant server – for common network failures, which, in most cases, can get your office back up and running in 10 minutes. Think of it as a high-tech spare tire for your practice.
Online System
Your Programs & Data – Stored Securely in the Cloud
In addition to backups on your onsite redundant server, the system routinely copies these files to the cloud. Your programs and data are backed up online and stored in multiple, encrypted facilities. If your office is destroyed, your complete server can be accessed via the web so you can view files and manage your business remotely.
U.S.-Based Monitoring 24 Hours a Day
Every Backup Is Verified
Onsite and offsite systems are monitored and tested to make sure all backed-up data is current, should you need a fast restore.
Easy Installation
And Help If You Need It
For more information on DDS Rescue please call 800-294-8504.