eClaims and eClaims Status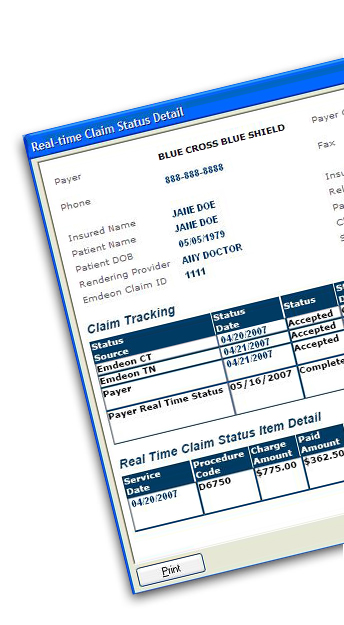 eClaims
When you submit claims electronically to the insurance companies with eClaims from Eaglesoft, your practice will benefit from reduced claim rejections, faster turnaround on insurance payments, the ability to track claims and more!
Create and review your claims, then send electronically
The cost per electronic claim is only $0.45; only $0.50 per electronic paper claim
Watch Video

eClaims Status
Plus, quickly track your claims with our claim status feature included at no extra cost!
Identify the status of your claim immediately – no phone call necessary
Save and/or print the response you receive for your records
Discover if claim was rejected, accepted or if payment is on the way
Watch Video

eClaims and Claim Status Dental Payer List and Changes

Sign up today! Enrollment Form

For more information please visit the Explore Store or call 800-294-8504.